Paging
Overhead Paging Systems
E-Z Tel offers paging solutions for all types of businesses. E-Z Tel can provide the proper solution for all facility sizes and all business types.
Valcom
Paging System Features
Telephone Interface
We'll integrate your paging system with just about any phone system so paging announcements can be made from any facility phone.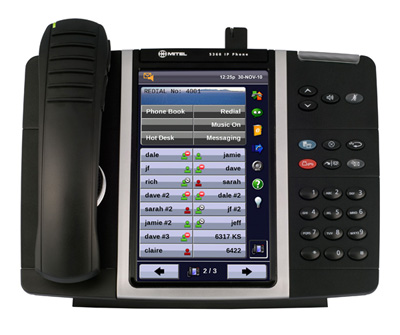 Zone Paging
Segmenting your facility into paging zones gives you and your staff a great deal of control over where pages are heard. Page just into a certain area, into groups of defined areas, or all-call to your entire facility.
Emergency Override
Emergency override gives you the ability to override any other audio and get an announcement out to everyone in the facility.
Spot Sound Masking
Valcom Spot Sound Masking Speakers offer the quickest and most inexpensive approach for medical facilities to comply with HIPAA regulations regarding incidental disclosure.
Create an environment where an individual's right to privacy is respected without burdening staff or compromising the organizations ability to provide patient care.
Night Ring
When your phone system shifts over to night mode, have it send a signal to our paging system that will ring throughout your facility so that anyone in the facility will know there is an incoming call.
Talking Back
Paging speakers can double as microphones to allow the person being paged to respond simply by talking back. This application is idea for schools.
Background Music
Pipe background music throughout your facility, or only to certain areas. When a page is made, the background music mutes until the page is finished.
Auto Volume Adjustment
Microphones installed at key areas in your facility can report back the ambient noise level to the paging system so that it can automatically increase or decrease the volume to that particular area accordingly. This feature is ideal for manufacturing environments or shops where loud equipment kicks on and off throughout the day.
Shift Change Tones ring at programmed times according to an internal clock on the paging system. That internal clock can be auto-synchronized with an external reference clock.
Preannounce tones which sound just before a page is made.
Privacy beeps which sound every 15 seconds while talk-back is engaged so staff doesn't wonder if they're being listened in on.
Emergency/shift change tones can be triggered by external equipment.
Design and Installation
For over 25 years we at E-Z Tel have provided overhead loudspeaker paging systems design, installation and service for all of the following applications. We'll also provide testing, maintenance and repair for your existing overhead loudspeaker paging systems.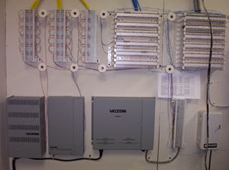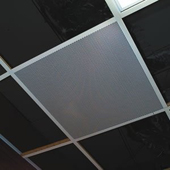 We offer paging systems project management, including every facet from start to finish, or just those aspects of the job that you need.
We'll be asking, What do you want your Paging System to do for you?
Locating People
Emergency Announcements
Zoning (Communicating with certain departments as needed)
Remote Building
Night Ring / Night Bell (send off-hours calls to another location via paging)
Time Clock/Tones
Alert Tones (often required by OSHA, always required by common sense)
Digital Messages (digitally recorded voice announcements in pre-determined messages)
Talkback (Paging System Speakers become a microphone)
Door Speaker (Intercom to control access, for example)
Zone Microphone (Pre-programmed microphone for touchpad control of paging to zones)
Call Stacker (Allows multiple pages to be queued for delivery)
Feedback Eliminator (Records your voice and plays it back when you hang up to stop feedback squeals)
Background Music
Computer Programmable Option
Visual Message Centers
Ambient Level Controller (automatically adjust paging sound levels)
Your Benefits
We are an independent Paging Dealer with extensive experience in the design and installation of paging systems and public address (PA) systems from many top manufacturers, including:
Bogen
Page Pac
Wheelock
Dukane
Valcom (purchasers of Harris Dracon)
Viking
And More