VOIP ICP-200
One of the most important services you will set up for your business is your phone line or lines. It is by far the most critical element of your physical business; if your customers cannot reach you then what is the point of even opening your doors?
Today there are a number of options available to the small and medium-sized business owner. You will a want to be sure to watch how much you are spending; nothing can kill a business faster than outrageous phone bills for services that you really don't need. With Voice Over Internet Protocol (VOIP) phone lines now being so readily available there is a simple and very cost-effective solution to your business phone needs.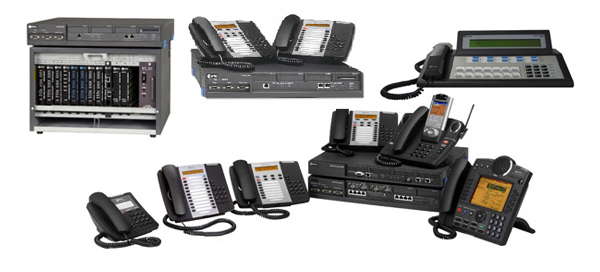 E-Z Tel VOIP SOLUTIONS
E-Z Tel offers affordable, full featured, easy to use and easy to manage VOIP phone solutions. We have installed VOIP systems across the Greater San Francisco Bay Area. Each VOIP system is custom designed for your applications and needs and backed by the award winning and world class quality of Mitel, North America's leading provider of VOIP phone solutions to companies with fewer than 500 employees. Your VOIP system can be hosted no matter where you are.
Business communications are vital to the success of your company.

Efficient messaging, auto attendant answering, mobility solutions, audio and web conferencing and easy to use IP desk phones all contribute to increased customer satisfaction and revenue growth. E-Z Tel understands the unique needs of companies like yours.

The Mitel® SX-200 IP Communications Platform (ICP) allows small and medium businesses
to enjoy all the features and functions that they are accustomed to with key and PBX systems, plus all the benefits a full-featured IP system brings to the table. Designed for up to 600 users, the SX-200 ICP improves the external image of your business by enhancing customer service and employee productivity while reducing your capital expenditures and operating costs – providing you investment protection for the future.
Advanced, Affordable Communications Solutions for Small to Medium Businesses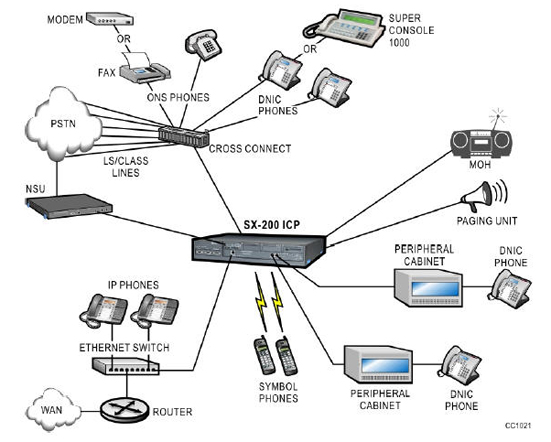 Embedded Voice Mail and Unified Messaging
The SX-200 ICP comes standard with an integrated highly featured voice mail system. Up to 24 ports (MX Controller) or 16 ports (CX / CXi Controller) are available for voice mail calls, with support for up to 750 mailboxes and five hours of storage time with an internal compact flash (storage time can be expanded with a hard drive). The embedded voice mail supports such features as VCR-like controls for message playback, message notification (via lamp on phone and/or a call to a designated number), personal contacts (multiple options for users who reach your voice mail to contact you) and call recording. The Unified Messaging application allows you to forward your voice mails to your email, as well as have the SX-200 ICP notify you if there is a system alarm or if someone has dialed 911.

Multilevel Auto Attendant

The multilevel auto attendant is a standard part of embedded voice mail on the SX-200 ICP. It provides callers with an automated voice response that directs calls based on user prompts. Now, companies can answer their phones 24/7 and free up employees' time for other projects.

Key System and PBX Features

The best of both worlds are available with the SX-200 ICP. The key system features that you know and love like park and page, line appearances and hands-free answer back are all available, as well as over 350 other features such as call forwarding, conferencing, speed dial, and twinning.

Automatic Call Distribution

Whether you need to set up an impromptu ring group – having a couple of sales people's phones ring at once when a call comes in – or you need sophisticated call routing with paths and timers, the SX-200 ICP can accommodate them all with Automatic Call Distribution (ACD). Paired with our Mitel Customer Interaction Solutions tools, the SX-200 ICP will help you manage
your call center to its utmost efficiency.

Teleworker Solution

The Mitel Teleworker Solution enables businesses of all sizes to easily enjoy the benefits of teleworking through a low-cost "plug and work" solution that extends the corporate network to virtually any location. Businesses can now benefit from reduced overhead and increased employee retention, while users can be more flexible and productive in how they work.

Pursue operational innovation to drive growth, increase productivity, and maintain profitability.

The bottom line is that these are challenging times. Developing new ideas for doing business differently is critical to survival. Mitel provides small businesses with advanced IP-based integrated communications platforms, the industry's widest portfolio of Digital and IP phones, and a set of core business applications, including conferencing and collaboration, messaging, mobility, wireless, and customer interaction.

E-Z Tel's Mitel Small Business Solutions are ideal for all of your business objectives:

Expand Business Capabilities – Reach out, connect and collaborate with regional managers, service staff, customers and partners where ever they may be.

Work Smarter – Improve multi-site communications via voice, email or text messaging. Enhance employee, supplier, and customer information sharing with audio and web conferencing and collaboration tools.

Save Money – Reduce installation, maintenance, training and power consumption costs with software solutions, server consolidation, and simplified administration. Further, realize significant long distance and mobility cost savings with the Mitel Dynamic Extension and Mobility solutions.

Simplify – Centralized Network Management enables simple configuration, control and management of your converged network environment, thereby increasing staff productivity and minimizing repetitive tasks by automating standard processes.

Peace of Mind – Rest assured that the reliability of the Mitel IP network will continue to work or recover rapidly during any unplanned interruptions to business operations.
An overview of ICP200

Teleworker Solution

Bring your desktop home. With Mitel's Teleworker Solution, employees can access, through a secure Internet connection, the same features and functions that they have at the office – at home. Calls to an existing extension can be twinned to your Teleworker phone allowing the workflow to continue uninterrupted.

Mobile Extension

Call once and stay connected. Mitel Mobile Extension allows employees to be mobile and yet easily reachable: one call rings all devices associated with that extension. Once answered, employees are free to remain mobile or stationary – by seamlessly one-touch transferring their calls from the mobile to their desktop – and back again – as the need arises.

Automatic Call Distribution

Queues and prioritizes. With Automatic Call Distribution, you can group together the correct resources to respond to customer questions and issues quickly and efficiently.

Wide Variety of Standard Features

Increase productivity effortlessly. The SX-200 ICP includes a variety of features that users have come to expect, such as:
Account Codes
ANI / DNIS
Broker's Call
Call Forwarding
Call Logging
Call Park and Page
CENTREX
CLASS (analog / digital)
Direct Inward Dial (DID)
Emergency Calls (911) Reporting to PSAP
Fax Tone Detection
Feature Keys
Hold
Redial
Line Appearances
Messaging – Advisory
Music-on-Hold (MOH)
Night Service
Personal Speed Call
Phone Twinning
Recorded Announcement Device (RAD) Support
Record-a-Call
Secretarial Line
Subattendant
Tenanting
Transfer
Trunk Answer From Any Station (TAFAS)
And More
Consult the SX-200 ICP Data Sheet or the General Information Guide for a complete list of the over 350 features.