VOIP ICP-3300
One of the most important services you will set up for your business is your phone line or lines. It is by far the most critical element of your physical business; if your customers cannot reach you then what is the point of even opening your doors? Today there are a number of options available to the small and medium-sized business owner. You will a want to be sure to watch how much you are spending; nothing can kill a business faster than outrageous phone bills for services that you really don't need. With Voice Over Internet Protocol (VOIP) phone lines now being so readily available there is a simple and very cost-effective solution to your business phone needs.

Click Here to View All Mitels IP Devices


E-Z Tel VOIP SOLUTIONS

E-Z Tel offers affordable, full featured, easy to use and easy to manage VOIP phone solutions. We have installed VOIP systems across the Greater San Francisco Bay Area. Each VOIP system is custom designed for your applications and needs and backed by the award winning and world class quality of Mitel, North America's leading provider of VOIP phone solutions to companies with fewer than 500 employees. Your VOIP system can be hosted no matter where you are.
Business communications are vital to the success of your company.
Efficient messaging, auto attendant answering, mobility solutions, audio and
web conferencing and easy to use IP desk phones all contribute to increased
customer satisfaction and revenue growth. E-Z Tel understands the unique needs of companies like yours.

3300 IP Communications Platform


Mitel® 3300 IP Communications Platform (ICP) provides enterprises with a highly scalable, feature-rich communications system designed to support businesses from 30-60,000 users. The 3300 ICP provides enterprise IP-PBX capability plus a range of embedded applications including standard unified messaging, auto-attendant, ACD and wireless gateway. Operating across virtually any LAN/WAN infrastructure, the 3300 ICP provides seamless IP networking allowing for full feature transparency within distributed environments by supporting networking standards such as Q.SIG, DPNSS, and MSDN. The 3300 ICP provides organizations with the opportunity to IP enable their legacy PBX's, protecting existing investments while delivering all the advantages of a converged infrastructure.

Leveraging over three decades of call control experience, the 3300 ICP supports over 500 telephony features - features that are delivered to the many user communities through easy to user interfaces such as our Web-based system management.

At the user level the 3300 ICP supports the industry's largest range of desktop devices including entry-level IP phones, Web-enabled IP devices, wireless handsets (WiFi or IP DECT) and full-duplex IP audio conference units.

The 3300 ICP also supports a powerful suite of applications including multimedia collaboration, customer relationship management and unified messaging. Industry standard Application Programming Interfaces (APIs) are supported for extensive third-party applications through Mitel Solutions Network (MiSN).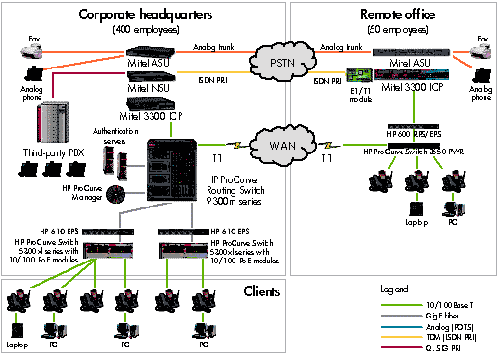 Mitel 3300 ICP Provides

Seamless IP Networking across multiple sites
Resilient, robust switching
Support for industry standard networking protocols such as Q.SIG and DPNSS
500+ telephony features
Embedded Standard Unified Messaging, Auto-attendant, ACD, and WiFi and IP DECT wireless gateway
Support for the broadest range of IP desktop devices within the industry today
Web-based user interface that allows for easy programming of desktop phones
Hot desking, allowing users to change any extension to their own
802.3af compliance for power over Ethernet
Support for touch-of-a-button, drag-and-drop video and audio conferencing
Industry standard APIs and support for third-party applications through MiSN
Mitel 3300 CITELlink Gateway provides seamless integration with Nortel phones

Wireless Voice and Data

The 3300 ICP's integrated 802.11 wireless gateway enables mobile users to access voice and data services equal to the wired desktop anywhere in the enterprise. Speech-Enabled Applications The 3300 ICP supports Mitel Speech Server Unified Messaging including attendant, directories, mobility and voice portals.


Teleworking

The 3300 ICP integrates support for the Mitel Teleworker Solution. This simple, secure, "plug and work" solution enables transparent access to the corporate voice network from any location with broadband Internet access.


Messaging

The 3300 ICP's embedded voice mail is a flexible, cost-effective solution supporting centralized voice mail and multi-level auto-attendant. The 3300 ICP also supports the Mitel Messaging Server which provides enhanced voice mail as well as integrated and unified messaging.


ACD and Contact Center Applications

The 3300 ICP includes embedded automatic call distribution (ACD) and supports the Mitel 6100 Contact Center Solutions suite of modular, web-centric contact center applications.


Extend Access to Users & Locations

The 3300 ICP can be configured and integrated into any corporate LAN/WAN infrastructure - regardless of manufacturer - to provide IP telephony and application access to thousands of users in a single building or campus setting. The 3300 ICP can also be seamlessly networked with other 3300 ICPs and with the Mitel 3340 Solutions to serve locations across the country and around the world. In addition, the 3300 ICP supports a hosted solution using a choice of gateways (analog, digital, BRI) providing a cost effective solution for small branch offices. The 3300 ICP seamlessly interoperates with traditional PBX telephone systems, protecting existing investments while allowing organizations to add IP-based communications to work groups, departments, and new locations/facilities at a pace that makes sense for them - that's Intelligent Evolution by Mitel.


Converged Network
The 3300 ICP is a resilient solution that supports single and multiple location enterprises, with IP networking extending full head office capabilities to the branch office via the 3340 Branch Office Solution, and to teleworkers via the Mitel Teleworker Solution.

The 3300 ICP can interoperate with traditional systems to enable enterprises to evolve departments and facilites toward IP at a pace that makes sense for them.


Manage It All, Simply and Cost Effectively

The 3300 ICP features embedded system management that provides simplified web-based tools for efficient system configuration and maintenance. In addition, the inherent flexibility of Mitel desktop devices virtually eliminates the need and cost of onsite visits for moves, adds and changes, as do the intuitive personal programming interfaces supported by Mitel devices on the 3300 ICP. All of which combine with the efficiencies of operating a single integrated network to deliver significant cost of ownership savings.


Highly Scalable Architecture

The 3300 ICP is built on the company's unique dual bus architecture: a switched IP core that is highly scalable and delivers resilient, robust switching, routing and call control including support for traditional circuit-switched environments. This approach fully leverages the power of IP while recognizing the need to support traditional systems and devices as organizations evolve to a fully IP-based environment. Mitel 3300 ICPs embedded 802.11 wireless gateway supports mobility and location transparency within the enterprise.

Proven IP Performance from the Leader in Convergence for the Enterprise

Already delivering on the promise of convergence to diverse organizations around the globe, the3300 ICP is the proven solution that provides a strategic advantage through unparalleled user features, applications, simplified management and reduced system costs, while enabling companies to protect their investment in existing systems as they evolve toward a converged IP environment. The result of Mitel's three decades as a leading innovator in user-focused business communications, the 3300 ICP delivers on the promise of convergence.